Relay Interface
Analog to Digital
Status Input
Support
Contact Us
EECI Home Page
View Cart
AR-8RH Relay Interface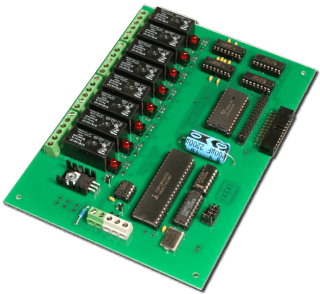 AR-8RH Relay Interface........
$ 164.95
Quantity
ACCESSORIES
Click the add button to add accessories, then click BUY
CO-485USB USB to RS-485 Co
$ 44.95
Quantity
/A232-422 RS-232/RS-422 Opt
$ 10.95
Quantity
/L LED Option......................
$ 9.95
Quantity
View Options
Additional Accessories
Connects to USB or RS-422/RS-485 - distances to 4,000 feet - up to (32) AR-8RH units may be multi-dropped on a single pair RS-485 line.
Convert USB to RS-485 using the CO-485USB USB to RS-485 converter
May be ordered with dual interface mode allowing both RS-232, RS-422 and USB connections
May be connected directly to Internet or LAN using CO-LAN Ethernet to RS-232/RS-485 Device Server
Expandable to control up to 128 relays. Each AR-8RH may be set to the required address
(8) Relays, AR-8RH contacts are SPDT rated at 12 amp 250VAC
Available with optional LED indicator lamps for each relay (shown above)
Includes free Windows Desktop Control software and free Remote Network Control software (both Windows and Android)
Use the SW-A Load Programmer software for 7 day time control of relays
LabVIEW compatible, includes LabVIEW VI and graphic software example
Compatible with all versions of Windows including XP, Vista, Windows 7, Windows 8.1, Windows 10 and Windows 11
Source code examples included on CD in Microsoft Visual Basic, C#, C++, Python and others
Full technical support provided by on staff advisors
Cables and power supply sold separately
Android Compatible - Use with your Android tablet or phone - connects directly to USB port or controllable over network (Mobile, LAN, Wi-Fi or Internet)
Connect your AR-8 Relay Interface to your Android tablet or phone's USB port! Click the Android for more info about the free Android App...

AR-8RH Description and Spec
AR-8RH Technical Reference
AR-8RH Remote Desktop
AR-8RH Software Download
View All Relay Products
---
Electronic Energy Control, Inc.
14960 Maple Ridge Rd
Milford Center OH 43045-9016

TOLL FREE (24 hour order line)
(800) 842-7714
Technical Support (937) 349-6000
Internet Email cst@eeci.com
---
Copyright ©1996 - 2022 Electronic Energy Control, Inc.
All Rights Reserved
Document End
---