RS-232 Analog to Digital (4 channel)
ADC4-11RS232 Analog to Digital Converter - 11/12 Bit
ADC4-15RS232 Analog to Digital Converter - 15/16 bit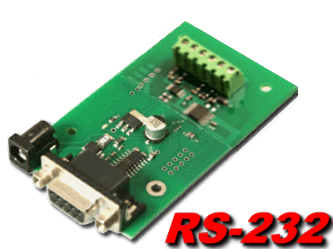 USB
WiFi
Ethernet
RS-232
RS-485
Click the add button to add items, then click BUY
ADC4-11RS232 A to D (11 Bit).
$ 55.95
Quantity
ADC4-15RS232 A to D (15 Bit).
$ 65.95
Quantity
ACCESSORIES
CC-DE9SP 9 Pin RS-232 Cable...
$ 8.95
Quantity
PS-5VDC-1000 Wall Adapter.....
$ 12.95
Quantity
EN-D Enclosure for the ADC4-RS232
Additional Accessories
Connects to RS-232 (distance up to 50 feet)
4 channels of 11 bit Analog to Digital (2,048 increments) for single-ended inputs
or 2 channels of 12 bit differential inputs (4,096 increments) with ADC4-11RS232
4 channels of 15 bit Analog to Digital (32,768 increments) for single-ended inputs
or 2 channels of 16 bit differential inputs (65,536 increments) with ADC4-15RS232
Selectable reference voltage - allows for 0 to 250mv, 0 to 500mv, 0 to 1v, 0 to 4v or 0 to 5v voltage input ranges
Full technical support provided by on staff advisors
Commercial Grade reliability - engineered for continuous 24 hour industrial operation
Expandable to monitor up to 8 digital inputs or control up to 8 relays using the EX-8M expansion card or...
Expandable to control up to 128 relays, monitor 128 inputs (or combinations of relays and inputs) using EXM-8, EXM-16 or EXM-32 Relay I/O Expansion Modules
LabVIEW compatible, includes LabVIEW VI, graphic software example and DLL library
Compatible with Windows XP, Vista, Windows 7, Windows 8 and Windows 10
Android Compatible - Use with your Android tablet or phone - Monitor over network or WiFi
Use your own program to read, display and process the 4 analog inputs for any application or use the included software
Source code examples included in Microsoft Visual Basic.Net, Visual C#, C++ and others
Includes CD with Data Logging Software, driver and software interface. Requires RS-232 cable (CC-DE9SP)..
---
ELECTRONIC ENERGY CONTROL INC
14960 Maple Ridge Rd
Milford Center OH 43045-9016

TOLL FREE (24 hour order line)
(800) 842-7714
Technical Support (937) 349-6000
Internet Email cst@eeci.com
---
Copyright ©1996 - 2018 Electronic Energy Control, Inc.
All Rights Reserved
Document End
---