Relay Interface
Analog to Digital
Status Input
Support
Contact Us
EECI Home Page
View Cart
USB Digital to Analog (8 channel)
DAC-8U8 USB Digital to Analog Converter (8 bit)
DAC-8U10 USB Digital to Analog Converter (10 bit)
DAC-8U12 USB Digital to Analog Converter (12 bit)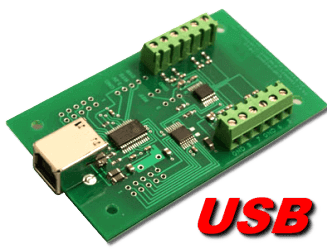 USB
WiFi
Ethernet
RS-232
RS-485
Click the add button to add items, then click BUY
DAC-8U8 Digital to Analog.....
$ 79.95
Quantity
DAC-8U10 Digital to Analog...
$ 89.95
Quantity
DAC-8U12 Digital to Analog...
$ 99.95
Quantity
ACCESSORIES
/M Expansion Port Option*.....
$ 3.95
Quantity
*allows you to connect add-on modules

USB Cables
EN-D Enclosure for the DAC-8U
Additional Accessories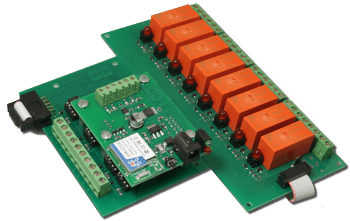 DAC4-12WIFI shown with the
EX-8M and RN-8 Relay Card






Typical applications include variable air damper control, blower and motor speed control, light level control, audio sound level control, motion control, water/fluid/air valve position control, variable-frequency drive (VFD) motor control, 4-20ma loop control, solenoid position control and hundreds of other applications.
Connects to USB - Powered from USB port
8 channels of 8 bit Digital to Analog (256 increments in output level) with DAC-8U8
8 channels of 10 bit Digital to Analog (1,024 increments in output level) with DAC-8U10
8 channels of 12 bit Digital to Analog (4,096 increments in output level) with DAC-8U12
The DAC-8U may be special ordered with up to 64 channels of analog output - contact EECI support for more info
Selectable reference voltage - allows for (0 to 3.3v), (0 to 5v) or user supplied voltage output ranges
Available with high precision voltage reference pre-installed. Allows for (0 to 1.2v), (0 to 2.048v - .5mV per increment), (0 to 2.5v), (0 to 3v) or (0 to 4.096v - 1mV per increment) output ranges
Contact EECI support for more info
Add the CO-420T 4-20mA Transmitter for USB controlled 4-20mA current loop transmitter
Full technical support provided by on staff advisors
Expandable to monitor up to 16 digital inputs or control up to 16 relays using EX-8M Expansion Modules or...
Expandable to control up to 136 relays, monitor 136 inputs (or combinations of relays and inputs) using EXM-16 or EXM-32 Relay I/O Expansion Modules
LabVIEW compatible, includes LabVIEW VI, graphic software example and DLL library
Compatible with Windows XP, Vista, Windows 7, Windows 8 and Windows 10
Android Compatible - Use with your Android tablet or phone - connects directly to USB port or monitor over network or Wi-Fi
Use your own program to control the 8 analog outputs levels for any application (or use the included software)
Source code examples included on CD in Microsoft Visual Basic.Net, Visual C#, C++, Python, Microsoft ASP.NET and others
Includes Data Logging Software, driver and user interface on CD (or optional USB flash drive). Requires USB type B cable (CC-USBB1 or CC-USBB6).
---
Electronic Energy Control, Inc.
14960 Maple Ridge Rd
Milford Center OH 43045-9016
TOLL FREE (24 hour order line)
(800) 842-7714
Technical Support (937) 349-6000
Internet Email
cst@eeci.com
---
Copyright ©1996 - 2020 Electronic Energy Control, Inc.
All Rights Reserved
Document End
---